Alumni Spotlight on Gregorio: A Dreamer Pursuing Big Dreams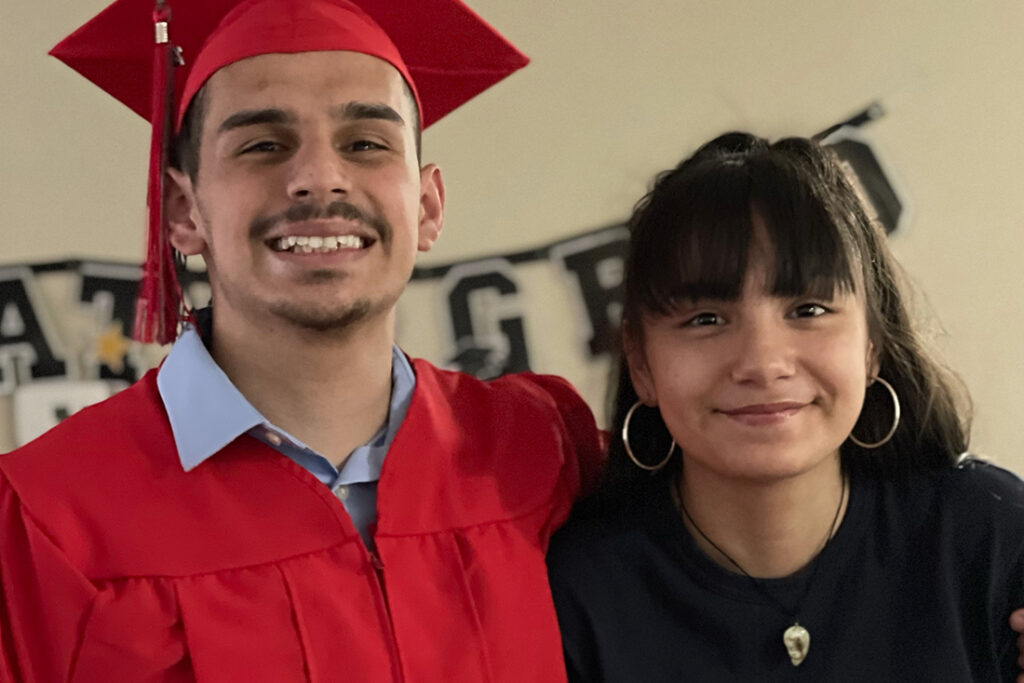 This graduation season we are thrilled to celebrate the achievements of Gregorio Alberto, an alumni member from the CORE "Dreamer" cohort, who is graduating from UNLV with his B.A. in Political Science after just two years! Gregorio was able to accomplish this goal through his participation in the CSN High School program, where he earned college credits throughout his last two years as a high school student. At the time of his high school graduation in 2019, Gregorio had already earned 56 credits, just 4 short of an associate's degree. Gregorio encourages other Scholars who may be considering this program to explore all of the different degree options you may be interested in pursuing early on, "because later I realized that there were a lot of other interesting majors that I hadn't considered." He also recommends that you talk to your college counselors early on as you're planning out your coursework, "I realized that I would have had enough elective credits to pick up a minor."
Gregorio's determination and the resources available through the CSN program have him on a fast track to the next step in his professional journey: law school. Gregorio says that his dream has been to become a lawyer with the ACLU ever since he was younger.  He remembers "reading about a court case where the ACLU was defending students who didn't want to do the pledge of allegiance, and realizing that lawyers play an important part in extending rights to people and I've always wanted to be a part of that." Gregorio is already involved with the ACLU, where he worked as an intern throughout the 2020 primary campaign and interviewed candidates who were visiting Nevada including Secretary Julian Castro, Senator Kirsten Gillibrand, and current President Joe Biden about their policy ideas around immigration. Gregorio says that he first participated in an ACLU summer workshop that CORE paid for him to attend, and that it was really helpful in eventually landing his internship position. Currently, Gregorio is getting ready to take a gap year to prepare for the LSAT and law school applications. He plans to pursue work as a public defender, and notes that there is a critical shortage of qualified public defense attorneys for those in need.  Gregorio's clear vision of his altruistic professional goals helped him win The Clifton Dickens Law & Legal Studies Award at this year's Rogers Foundation Scholarship Awards.
In reflecting on the challenges faced during his college career, Gregorio says that there was a lot of reading assigned for each course, especially once he moved from CSN to UNLV. He says that, "I didn't expect that I would be reading so much" and that procrastination was something he worked hard to improve on. He also says that "it's important to look at which skills will be important for your degree coursework. For example, I hadn't realized math would be important for my Political Science coursework and I wish that I had taken some statistics classes earlier on before I started working on my senior thesis project." Gregorio says that he had to spend a lot of time catching up on learning statistics while also working to complete his senior thesis, so he recommends looking at the skills you'll need for your degree early on, so that you don't get stuck spending time catching up at the end of your program.
When asked what he's most excited about after graduation, Gregorio says, "I'm excited to get into law school and then start helping people, graduation makes me feel like I can achieve my goals."  Gregorio is grateful to the CORE Community for their support along his journey and says that "the staff made me feel like I could actually do something and they helped me a lot with personal stuff at home."  Gregorio says that he would tell current Scholars to "just be honest and open with CORE team members when they ask if you need anything, and actually talk with a team member that you feel comfortable going to for help." He also recommends that you "take advantage of the tutors that they bring in and other resources or workshops to help with your goals." We are all excited to see Gregorio's next moves as he pursues his dreams – and hope that his advice and experiences can be helpful as you decide on your own path. Congratulations Gregorio, happy graduation!