CORE Launches Cyber Classroom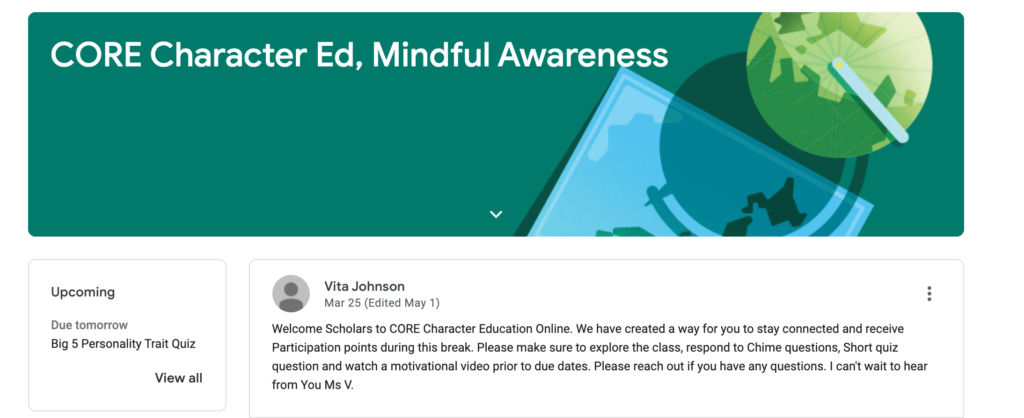 We mean it when we say, "CORE We Can!" Although currently we can't physically be together, we are still focused on how we CAN continue to stay connected. We CAN continue to enrich, we CAN continue to empower and we CAN continue to educate. Thanks to our talented team members, CORE's programming has remained ongoing throughout the school district closure by moving to an online format. At the heart of this innovative approach is CORE's Character Education: Cyber Edition. 
CORE's online platform is a place where Scholars can connect, chime into group conversations, complete projects, join clubs, perform online community service, and engage with self-development and mindfulness curriculum created by our team – and that's just the beginning! Our own Character Education Guru, Vita Johnson, took the lead in developing this online experience for our Scholars. The cyber classroom experience delivers upon CORE's existing structure of lessons and activities designed to help Scholars build healthy habits that improve mental health, enhance constructive character traits, and focus on positive self-identity. By transitioning these lessons to an accessible virtual format, we are ensuring that our Scholars aren't left behind as schools and community centers remain closed. 
"We are so excited to launch this program online as we know scholars may be feeling lost at sea or stuck on an island," said Vita. "Well, here's a raft! Here is a way we can stay engaged and connected and supportive of each other all while continuing to learn and grow. We want all our scholars and families to know they are not alone."
Presented as both scheduled group sessions and "work-on-your-own" individual learning tasks, Scholars can look forward to participating in live virtual classes, mindfulness training sessions, meditation, group discussions and community service opportunities. Each experience is aimed to further build upon the core character traits that are central to our program's model.  Our goal is for each Scholar to come away from our cyber learning sessions with new skill sets to focus on strengthening curiosity, exercising self-control, expressing gratitude, increasing motivation, and building mental strength and awareness. 
 "Regardless of the challenging environment we all are experiencing, Core is high-touch, personal and individualized by design and that hasn't changed," said Lindsay Harper, executive Director of Core. "We were able to pivot so quickly due to the fact that Vita and the team were committed and resourceful, as well as the fact that these are relationships that we have been pursuing and fostering since long before the schools closed and stay at home orders were put in place. I am so proud of how nimble not only the team but also the scholars have been in adapting."