CORE & Sprat – Building a Multi-Generational Artistic Community Together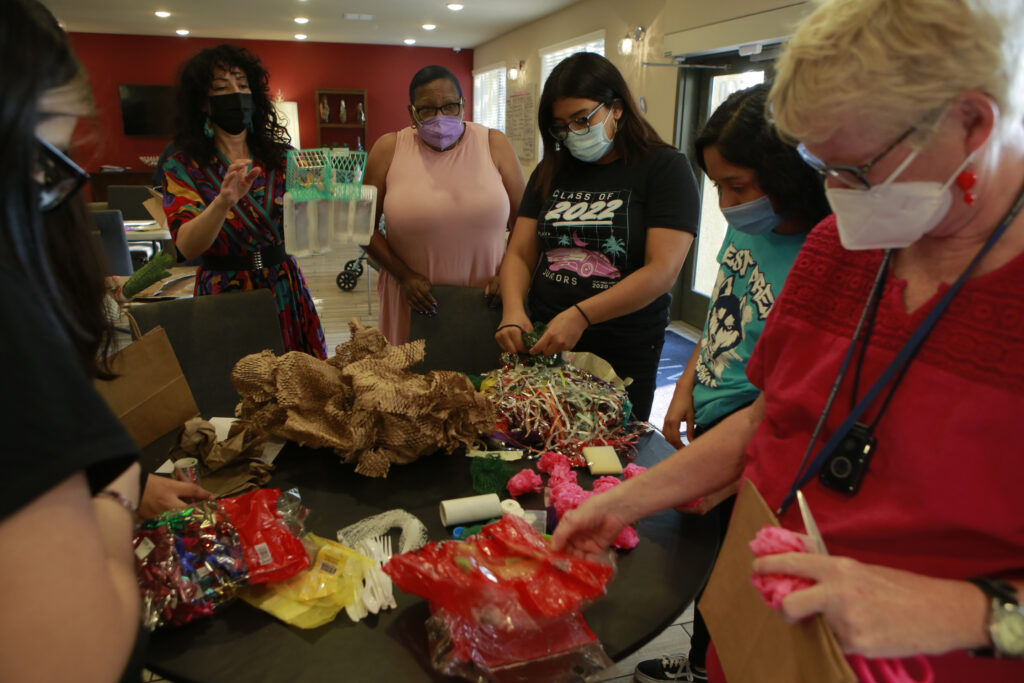 Have you heard about Sprat? A sprat is a species of small herring that travels together in large schools, but that's not really what we mean when we talk about Sprat here at CORE. Sprat is an inter-generationally focused program that brings people together to form connections through the transformative power of creative arts. In the words of Sprat founder, Ryan Elisabeth Reid, "I believe the arts have a truly transformative capacity and offer a great vehicle for connections to happen between seniors and youth." The Sprat program takes its name from this species of herring because they swim together, work together and thrive off of each other and the well-being of their community as a form of survival – much in the way that Sprat participants are encouraged to work and learn together in these multi-generational workshops.
CORE Scholars have been participating in Sprat since shortly after its founding in 2014. Sprat grew out of a play that Ryan wrote and directed at the Smith Center, with a focus on aiding intergenerational connection.  Each performance was followed by a talk-back session in which audience members conversed with doctors from the Lou Ruvo Clinic, caregivers, and cast members to create a dialogue about the need for intergenerational connection.  Ryan says that, "there was a lot of interest in this community engagement focused on intergenerational connection, and Sprat was born out of that."
For Ryan, aging and older adults has long been a topic of her work and an area of interest. She notes that she's spent a lot of time designing for older adults and working with them in dementia units, skilled nursing facilities, and independent living facilities. "It's definitely a passion of mine" she notes. For CORE, Sprat has long filled a special need in our program for providing enrichment opportunities that encourage young people to re-frame their viewpoints and see the world from the perspective of someone else; such as the older adults they work alongside in these workshops.
"The masks were so imaginative, it was inspiring to see what they came up with. It's so interesting to see people's different perspectives and what they create using what's available to them."
– Adriana Chavez, Sprat Instructor, Actor, Visual & Performance Artist
As we work to bring people together following the greater isolation brought on by the pandemic, Sprat is creating engagement and connectivity for two of the groups that may have faced the most disruption: older adults and younger students.  As Ryan points out, "it's been a challenging year-and-a-half. For a lot of people, and especially older adults and teens, some of this isolation has been detrimental to their growth and their learning." While Sprat offered "pen pal packets" and online workshops throughout the pandemic, it's been hard to capture the magic of connection that takes place in the in-person space. "There's something so special when everyone's in the same room together," says Ryan.
At the end of September, Sprat and CORE launched our 21/22 season of programming with a workshop focused on theatrical mask-making. Ryan says that it was important to her to start off our programming by addressing where we've been, and that "we've all been thinking about masks in terms of the surgical masks we're wearing, but we wanted to build a class around theatrical mask-making and explore what people are hiding, or what parts of themselves they're revealing through a mask." Local actor, visual and performance artist Adriana Chavez, was a natural fit to lead that workshop, as she had been working on mask making throughout the pandemic. Adriana says that "when the pandemic started and shut down theatre, creating masks was a great way for me to continue creating and exploring characters from home, it allowed me to continue being creative and expressing myself as an artist." Our Scholars and the seniors they worked with explored a variety of themes within their masks including self-identity, personal history, and even broader societal concerns such as pollution.
As we each work to make sense of this unpredictable journey that we've been on over the past two years, we hope that Sprat will give our Scholars the opportunity to explore and express their experiences through the arts. CORE Scholar Isalia is currently studying at CSN High School and taking graphic design and art history courses with the goal of continuing to study art in the future. She says that she enjoys attending Sprat workshops because she "get(s) time to paint and learn about art. Everyone has a different perspective and opinion and it's interesting to see that." Sprat will continue in a partially socially-distanced format with smaller class sizes throughout this programming year. Each month, Sprat gives our Scholars the opportunity to join older adults living at Ovation Senior Living facilities and local teaching artists in exploring a different art form through a two-hour workshop. Keep an eye on our social media as we continue to share their artwork from upcoming workshops including painting, group poetry writing, abstract drawing, and more. Visit www.meetsprat.com to learn more about this unique program taking place in our community.