EdSpeaks: The Voice of Nevada's Students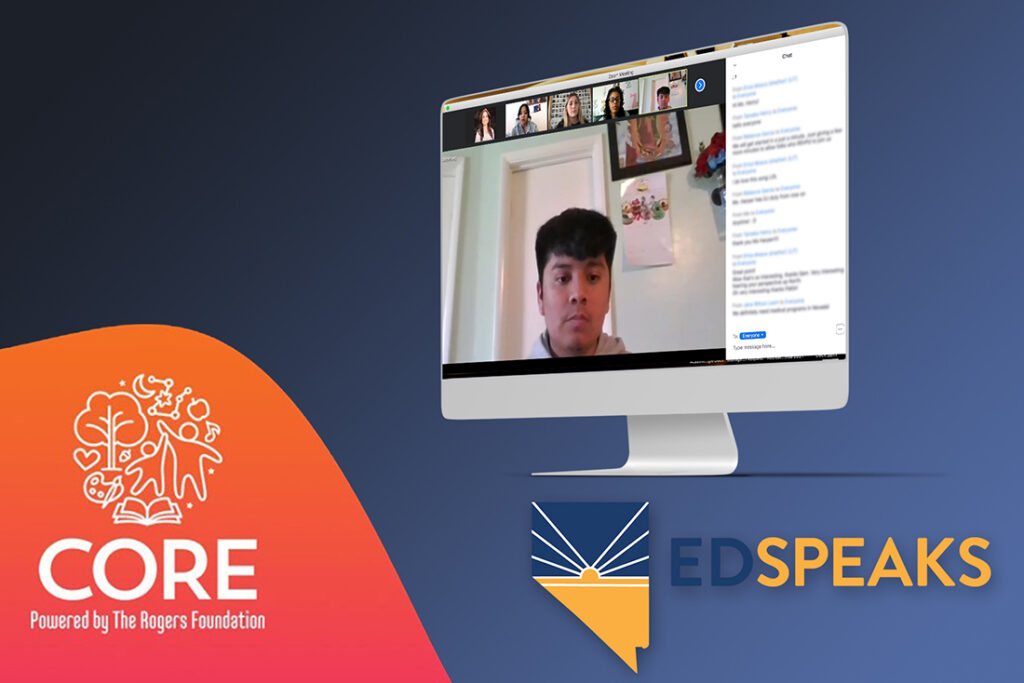 This month CORE joined education organizations from across the state as a co-host of the first EdSpeaks panel. EdSpeaks is an initiative that seeks to empower students to share their authentic voice and experience with people in positions of power. The goal is to break down barriers between the student experience and policymakers who make the decisions that directly impact their lives. CORE Scholar Pablo, a junior at West Prep High School, joined as one of the five high school student panelists from throughout the state, alongside others from Clark, Lyon, and Elko counties.
Each student came with a question for our state legislators. Pablo asked, "If you were totally in charge of education in the state, what would you do and why?" The students also considered their own responses to the questions asked, and Pablo's question created a great deal of conversation over the needs young people see as most urgent in our public school system. A fellow high school senior from North Las Vegas said she would "ensure that the dual enrollment programs are actually accessible to everyone and not just some people because I know that I benefited from the dual enrollment program, but when it comes to paying for books and extra class fees I had problems with that." One student from Elko county shared his concerns about the lack of funding for vocational classes, underscoring the diverse needs within different regions of our state. He urged leaders to "find a balance between establishing tracks for students who are looking forward to college and are looking to take those challenging classes, as well as establishing classes such as vocational welding or agriculture for students who are looking for a career right after high school." Pablo also wanted to see a greater variety of specialized career-centered courses being offered, citing medical programs that are offered in some locations here in CCSD but not at his own school.
Another major topic of discussion was the switch to distance learning that took place throughout the past year in response to the COVID-19 pandemic. Students shared their struggles with online learning, with many pointing out that they found it challenging to learn new material in the virtual classroom. In the words of one student: "It was much more difficult to actually understand the concept of what we were learning." The challenges of the pandemic weren't limited to the classroom, and students voiced the difficulties they faced at losing out on all of the other sports teams, clubs, and social activities that generally make up such a big part of high school life. However, there were positives, with one student pointing out that she "had to learn how to adapt to change very quickly," and others agreeing; saying that they felt like it might be preparing them for college, "giving (them) an idea of what it's like to not have a teacher then and there telling you what to do."
By bringing students together to share their perspectives on what is needed in education, EdSpeaks aims to elevate and center the voices of young people in developing education policy that reflects their needs. As students shared their concerns with challenges such as overcrowded classrooms and the availability of coursework that reflected their learning interests, they also highlighted one common resource that had benefited each of them: educators who cared and tried to provide the most for their students.
CORE is proud to stand alongside our EdSpeaks partners: